A Magic Collectors series
This series is set in an Ancient Greece-like world and is more high fantasy (longer and a bit grittier) than my others. It will be a trilogy with future stories about beloved characters. Book 2 releases late 2021.
Book 1
A lonely young man with more than one secret to keep gets swept into a world of danger, curses, and found family in this thrilling clean fantasy retelling of "The Twelve Dancing Princesses."
Seven princesses. Seven dragon lords. A nightly dance of magic and fire.
Princess Thea of Giliosthay is a Realm Walker. Betrayed by a trusted guard, her rare gift of enchantment is used to curse her brother and trap herself and her six sisters into a nightly dance with dragons in a secret Realm. The Realm's prince has the ability to take and twist her magic for his own purposes, and Thea fears what those might be. For when one dances with a prince, a kingdom might be at stake.
Athdar Owain is a hunted wanderer, one determined to keep his secrets and the treasure he carries safe at all costs. When he rescues Giliosthay's prince from raiders, he's rewarded by being forced into the king's elite Silver Guard. While this gives Athdar a temporary home and some protection from those hunting him, it also makes him responsible for the young prince and the seven enchantress princesses—all of whom are cursed.
Athdar alone can save them, but to trust enchanters is to risk exposure. And Athdar isn't sure where his loyalties lie.
Wrought of Silver and Ravens is here.
WROUGHT OF SERPENT AND SNOW
BOOK 2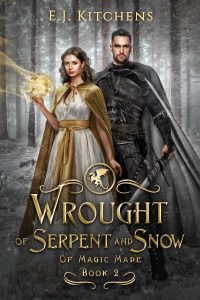 A quest for a guard. A curse for a princess. A love for them both.

Half-magic Athdar Owain loves his new home in Giliosthay—and the crown princess he's betrothed to. But when he learns his mother and grandfather are alive, slaves to the raven-eaters in the Mountains of Terror, he sets out for a deadly land he'd hoped never to see again. Even if Athdar and his companions, including fellow Silver Guards Galen and Bane, survive the journey, he fears they may not be able to free his family from the magic of the raven-eaters' enslavement.

Princess Thea of Giliosthay and her sisters may no longer be forced to dance with dragons each night, but they aren't free from their curses. Prince Cerav has disappeared, taking with him the miniature, magic-wrought crystal city and glass castle they need to free themselves and their kingdom from his influence, but to follow him would be foolish until they know how to fight the mysterious abilities of the half-magics. Ever practical, Thea focuses her efforts on strengthening her Realm Walking abilities and on deciding how she feels about the young Silver Guard her father has betrothed her to.

While Athdar is struggling to rescue his family, strange attacks begin in Giliosthay. Athdar once chose Giliosthay as his home and helped save it; now, he's inadvertently split the Silver Guard and left Giliosthay vulnerable.
Wrought of Serpent and Snow is available for purchase here.